SEBRA BULL RIDING TICKETS
BSN Productions and Southern Extreme Bull Riding are back in Abingdon every Friday Night at the Washington County Fairgrounds!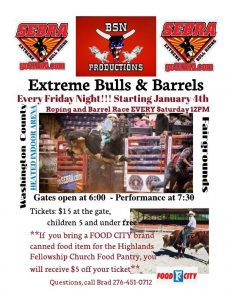 Don't miss these Extreme bulls and barrells!
Abingdon, Va Washington County Fairgrounds
Live Action in the Heated Indoor Arena
Gates open at 6PM Bull Riding at 7:30PM Fridays
Roping and Barrell Racing every Saturday at Noon
93.9 WMEV wants to send YOU there for all the fun with FREE tickets!
Stay locked in on 93.9 for your chance to win a 4-pack of Friday tickets!
Contest Line 1-800-653-3694