Blue Ridge Bash at the APEX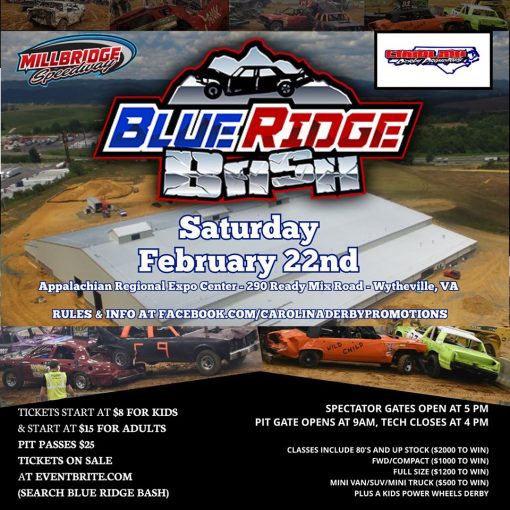 Carolina Derby Promotions presents The 2nd Annual Blue Ridge Bash at Appalachian Regional Exposition Center in Wytheville, VA. Saturday February 22nd .
OVER 130 ENTRIES!!!!!!
Inspection will open at 9:00am and close at 4:00pm.
YOU MUST MAKE YOUR FIRST ATTEMPT THROUGH TECH BY 3:00 PM
Drivers Meeting at 5:00pm
Derby Begins at 6:00pm
80's and Newer Stock Class
Full Size
FWD/Compact
Mini Truck, SUV, Mini Van Derby
Power Wheels Derby
93.9 WMEV has your free tickets!! Keep listening for your chance to join the winners!
Contest Line: 1-800-653-3694